Dear Fam,
There are now officially two Poet Houses; the original Poet's House of Kentucky and the new Poet's House of South Carolina. I write to you from the freezing fahrenheit sub-tropics of South Carolina. I have not been able to give up the first Poet's House just yet. I have so many emotional ties there. A poet is sometimes like an ivory-billed woodpecker who does not— can not — give up a good nest easily. Since arriving in South Carolina four months ago there have been so many powerful, unsettling, and inspirational emotional landscapes all around. Moving back to the place I thought I had physically left FOREVER has been jolting and confounding in every way. Ten thousand concrete questions arrive daily and twenty thousand answers float just out of reach.
I have unpacked the art and tapped each frame gently into the 1924 plaster walls. I still don't have enough bookshelves so many of my ardent beloved companions are still in cardboard boxes looking up at me wanting their freedom. The new house is so sunny and good for writing. I don't start teaching until the fall of 2014 but I am deeply involved, sitting on thesis committees, reading MFA files, cooking Sunday dinners for Mama and Papa, watching one nephew play basketball, preparing to shuttle another to a math tutor, attending Miss Teen S.C. beauty pageants, and writing short prosy things that make me laugh at myself out loud.
My traveling has slowed. I finally realize that the old poet's life, before winning the National Book Award in 2011, is really gone for good. (I thought it was just hibernating!) The new life that I am squarely and roundly now inside of must be made and shaped and paid great attention to. It is new and full of so many forward blessings.
Back to the writing.
When I was growing up here in South Carolina, three of my North Stars were Langston Hughes, Margaret Walker, and James Baldwin. In the past year I have been lucky enough to be invited to write the foreword to a reissue of Margaret Walker's This Is My Century (New and Collected Poems) edited by Maryemma Graham, the foreword to a stunning new collection of letters from Carrie Hughes to her son Langston, My Dear Boy, edited by Carmaletta M. Williams and John Edgar Tidwell, as well as the introduction to a brand new edition of James Baldwin's one and only book of poetry, Jimmy's Blues and Other Poems. I could not believe my good poet fortune, even though it was crazy and challenging to compose all, while in the arms of the emotional tidal wave of packing up and leaving Kentucky after 21 years. But how could I say No to such an honor and invitation? How could I say No when the writers that I was asked to "forword" and introduce were the very writers who helped shape the who— of who I am? The tissue box was kept close to the pencil jar.
In the next few weeks a short essay that I am so proud of— on Lorraine Hansberry, literature & love— will appear in the NYTimes Book Review Section. Baldwin was so right. It is much harder to write a short piece than a long one. Please keep a look out for it.
I am working for the rest of this month on a one-hundred-word prose poem that in April will be chiseled into the stone steps of a new garden space being designed on the campus of the University of South Carolina to honor fifty-years of desegregation there. Words in stone require so much work!
LaVena Johnson was the first person to die from Missouri in Iraq. LaVena Johnson, who at 19 was raped and murdered in Baled Iraq, (see The Silent Truth) even though the Army continues to call what happened to LaVena officially a "suicide." The poem Florissant that I wrote for LaVena was entered last week into the official Congressional Record during a long overdue hearing on Sexual Assault in the Military. This is not enough. To enter a poem into a country's official record is nice but it has nothing to do with finding and prosecuting LaVena's rapist and murderer. This will not appease my fight for more. Entering into the Congressional record has not much to do with changing the rules and the environment in the military that allow thousands of assaults and a world of violence to continue on both men and women who raise their hands to serve their country. Much more must be done for LaVena. Please help in the fight to not let this young woman's life disappear into the smoke screen of her posthumous promotions and awards.
I have returned to Kentucky several times in these last four months. The Poet's House in Kentucky is near empty of furniture but piping hot with feeling and inspiration. The first time I returned my sweet neighbors had gone into their attics and basements and moved an air mattress into the house, along with two oversized chairs, to sit in front of my beloved fireplace. On my winter visits, when I return to write and see my Kentucky family, a fire is mostly what I require. When I come back I don't bring much; a handful of pencils, wood for the fire and a few bottles of good red wine. I scribble all night in front of that fireplace. I fall asleep there. I wake up there. It's hard to let go of the place where all four of my poetry books were written.
Vaughan Fielder, the fabulous woman who designed my beautiful website and who is my business Representative in this life, is a stunning one-woman operation. Her creative expertise and artful representation have helped push my image and my work out into the world in a thousand beautiful ways. Along with the brilliance and photographic genius and generosity of Rachel Eliza Griffiths and David Flores, Vaughan has been the designer of so much. When Head Off & Split first launched in January of 2011, long before there was any nomination for any National Book Award, Vaughan was helping me figure out what I naively never cared much about, how to get my work out in to the world. We have remained a team over the years and there is great news to share in this regard. Vaughan has created a new agency just for poets, her very own, called The Field Office. She dreamed of an agency that would represent poets and their many necessary and potent conversations out in the world. Check out fieldofficeagency.com to see the amazing new poets Vaughan has brought together in one place. I'm very proud to be in this number.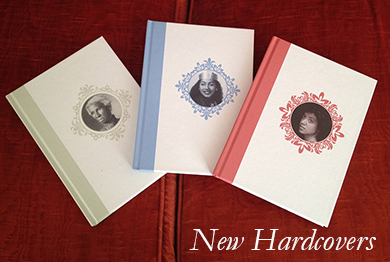 Lastly, my amazing publishing house, Northwestern University Press, has done an unbelievable thing and printed my last three books of poetry in a hardback limited edition of 200 sets. The cover of each of the three books are to the right (click on the image and you will see the rest). On the back of each book is my signature. On the cover of RICE (peridot) is the oldest family photo that my family posesses. It is of my great great great great grandmother, Susan Finney, in Virginia, taken in 1886. On the cover of The World Is Round (robin's egg blue) is a photograph of my mother at 18 in South Carolina, in 1951. On the cover of Head Off & Split (coral) is me at 27, in South Carolina, in 1984, shortly before my first book, On Wings Made of Gauze, was published by William Morrow, Inc. The Field Office will be selling these books on their website starting in the spring of 2014. More information on that will be coming to you in the next month or so. They will be sold as one set of three and not individually. My hope and dream is that they will be sold in a beautiful slipcover of some astounding color. We are looking for a slipcover company right now. Oh! The Field Office will be offering the first set of three as the top prize for their Postcard Prize at AWP in a few weeks. Well really the second set. I gave Mama and Papa the first set. Mama sat down looked at herself there on the front and began to cry, whispering, "I never made the cover of anything before."
I hope to see you on the road in March or April (please see the calendar for details) or at the year long celebration of Jimmy Baldwin's 90th birthday, or in Ireland at the Cuirt Festival of Literature, or at the Abroad Writers Week in Lake Como, Italy in June, or in Ghana in August, where Kwame Alexander and Nikki Giovanni have invited me and where I hope to take 1000 pencils to young writers there.
2014 is here. Be generous and step into each and every day with ferocious Jimmy Baldwin courage
Gratefully, I bow,
Nikky