MONA TURNS 20!!! or The Feline In Me
There has been a cat walking around in my life for as long as I can remember. I can say aloud every one of their names and recall each of their different personalities. My memories of each of them are filled with images and film of me moving along in life from girl to woman. There are photographs of me in my mother's house, as little sandy-haired girl, sitting with, or rubbing on, the back or belly of a cat, whispering something in her ear.
I know I learned something precious about touch, and its mighty response, from fifty years of this feline education. A cat, that has not been abused or neglected, will respond with such honesty, with its whole self and body. Felines understand the grace and gratitude and necessity of warmth and touch. Cats are sensual, particular, and persnickety. They are independent, full of great feline attitude and always feel the need to sit themselves right down in the middle of the page of whatever I am working on. This is my daily reminder of who really is in charge. The cat is the queen of all others and a cat in the poet's house has always made my house a home.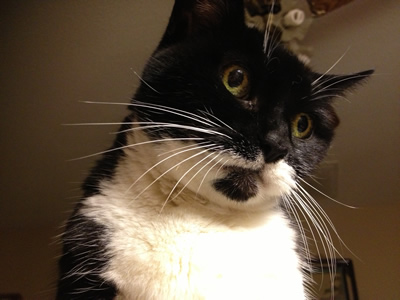 This is my Mona. Twenty years ago there were two kittens new to my Kentucky home. Twi & Mona. Twi, a beautiful blue Manx rascal of a cat was born under an abandoned car in the back yard. She lived 18 gorgeous years and died two years ago in my arms after a battle with skin cancer. Mona was adopted at the Humane Society in Lexington, Kentucky on September 19, 1994. She was the runt in a litter of 9. Her siblings would not let her get close to the little food bowl. She was staring around in the glass case looking hungry and confused. She hadn't yet figured out how to fight for herself. She had this amazing cute little goatee patch underneath her chin. "Let's go home," I whispered, "and meet Twi."
Our animals are family too. They ask so little of us and give so much. My twenty-year old Mona is said to be ninety-six in human years. She has been with me through relationship breakups and literary celebrations, family upheavals and simple joy. I open the door and there she is always hungry and always waiting for my touch on her backside. Mona is doing pretty good for a sweet old lady. Her legs are a little wobbly but she is still a graceful feline. She loves the South Carolina sun and still chases her tail until she collapses in a ball. She's lost a front incisor but jumps from couch to chair to food bowl with abandon. I don't know how much longer I will have her company but I wanted to celebrate this milestone of a Mona-birthday with you as a gentle reminder:
May we not take one sweet day for granted, may we give thanks for all the human and animal blessings that flow in and around and upon us. May we close our eyes, now and again, in simple gratitude.
Nikky